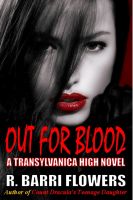 Here, learn some more stuff about this book:
The 1-line Review:
Book two felt much like the first and did not build upon the series like it should have.
The longer review:
I read this a while ago and failed to write the review. Part of that was because it just didn't leave an impression on me. I don't remember the exact details of the book anymore, but I still remember my overall feeling toward it.
The first in this series was pretty good, decent story and characters. The end really built up well to something more. Alas, that build up did not amount to anything in out for blood. I thought out for blood was going to amount to something bigger than the high school problems of vampire teenagers. The plot was similar to the first book. In one book a mysterious vampire was attacking humans, in the other novel an unknown human was attacking vampires.  Both stories happened to similarly to feel different.

The character relationships didn't seem to build off of the last book. There were some new characters and relationships but no real forward progress.
The end salvaged the story and gives the series another chance to grow to much more than it did in Out For Blood. I hope the story can get back on a good track in the next installment.
Worn Out Word:
The phrase "Ivan and Amelia, Kula's Vampire Protectors"
this phrase was tough for me after awhile. Ivan and Amelia were introduced like this several times in the first book. We get it by the second book, but they were introduced like this from start to finish. Every single time the characters showed up, start to finish, they were introduced as Kula's Vamp protectors…every….time…..
Bottom Line:
 If you liked the first one give it a shot. I will read a third book if R Barri Flowers writes one. For me, this one fell short.